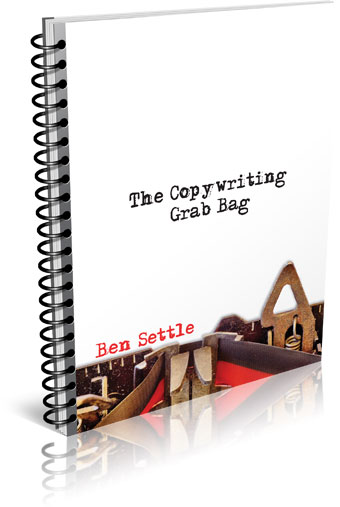 Dear Friend,
If you want to double (even triple) the money you make from your sales letters...
even if you're brand new to copywriting, and struggle with it now
... then this letter will show you how.
Here's the story:
My name is Ben Settle. I'm a direct response copywriter and marketing strategist. And many of my clients are amongst the world's most
successful
7-figure marketers and copywriters —like
Ken McCarthy
(million-dollar ad writer, and creator of "The System Seminar")...
Mike Dillard
(multi-million dollar info-marketer who has consulted
Robert Kiyosaki's
website team)... and
Captain Chris Pizzo
(#1 marketer in the
hyper-competitive
self defense
niche).
Anyway, here is why this is important for you:
I have created a product (called
"The Copywriting Grab Bag
") that contains my entire system for writing winning ads for some of the richest and most successful marketers on the Internet.
However, this product is
expensive
.
There is no money back guarantee.

And, it's

NOT

for the "casual" copywriter or marketer.
Frankly, most people probably should
not
invest in it at all.
To help you decide, here are some of the secrets revealed in it:
A sneaky (but 100%

legal

) way to use your competitor's customer testimonials... in YOUR advertising. Page 40

How to write money-making ads right out the gate—without needing any special "tricks", formulas or swipe files. Page 169
The single biggest mistake copywriters make with their

email

copy. (This mistake almost guarantees you make a mere

fraction

of what you could—and

should

—be making. See page 296.)

How to use an ordinary telephone to

double

your sales... and without doing any telemarketing. Page 180
The little-known reason why capturing emails could be cutting your profits in

half

. (Capturing your customers' email addresses is a "must" online... or is it? Find out why it could be

eating

your profits on pages 142-143.)
Why "bad writing" and lots of typos can make you even

more

sales. Page 67
How to create professionally produced Internet video ads on a "shoe-string" budget. Pages 188-190
The best place in your ad to offer an

upsell

. (This is easily the most valuable piece of "real estate" for maximum upsells. Find out where it is, and how to use it, on pages 206-207.)
The

exact

kind of content to give away on your website if you want to attract the best buyers. Page 254
The incredible copywriting secret of a 480-pound woman who died while being surgically removed from her couch! (This tragic news story contains one of the single most powerful copywriting secrets ever discovered. Use it in

your

ads, and your response is all but guaranteed to increase—

dramatically

.) Page 21

How to use an ordinary one-inch binder to sell more of your services than you ever could with a "sales letter." (This secret method is used by a world famous "lemon law" lawyer I once hired. He never has to advertise and people flock to him in

droves

. Here's how to use his method in YOUR business.) Page 43

Why your swipe file could be

crippling

your sales right now... without you even realizing it. Page 82

How to wipe out "writer's block" forever... with

video

games. (No more writers block or struggling with the blank page. Just follow these instructions, and you can turn your

Nintendo Wii

into a copywriting

machine

—working tirelessly on your behalf to create one blockbuster ad idea after another.) Page 16

"It's Already
Making Me Money"



"I absolutely love The Copywriting Grab Bag and it's already making me money. Just the other day I wrote an article using 'precaution copy' as recommended on page 110 and it helped me sell quite a few extra copies of one of my new products."



-Roger Haeske

www.RogerHaeske.com



Hear What Roger
Says Below:


How to write ads that turn non-buyers into buyers. (Works even on annoying "freebie seekers" who never buy

anything

). Page 118
This is one of "A-List" copywriter Doug D'Anna's most
profitable
secrets.
Not one in 1,000 copywriters knows about it. And yet, it can
dramatically
increase the response of almost
any
ad you write.
And by the way...
Doug D'Anna's copy has generated over $125 million dollars in sales for direct marketing powerhouses like
Phillips Investment Resources
,
Forbes
,
Prevention Health
Books
,
Lombardi Publishing
,
KCI Communications
and many others.
He is also widely considered to be one of the world's
top
copywriters—with endorsements and testimonials from
Gary Bencivenga
(universally called the "world's greatest copywriter"),
Brian Kurtz
(vice president of Boardroom),
Chris Marrett
(Senior group publisher of Phillips Investment Resources),
Walter Pierce
(President of KCI Communications)... and more.
And some of the little-known secrets Doug reveals in
Appendix 7
include:
Why people do NOT buy benefits (and what they
do
buy instead)... The secret of making people want to buy from you and ONLY you... What Joe Montana (the famous football star) can teach you about copywriting that no "guru" ever will... Why most copywriters should throw their swipe files in the
trash
... and...
This brilliant secret is used in many of the highest-pulling ads ever created.
And yet, you will likely never find it even
whispered
about in today's most popular copywriting books, courses, and seminars.
Here are
more
secrets you'll find in
The Copywriting Grab Bag
:
How to jack up your profits by 10%, 15%, even 20% or

more

... without touching one word of your ad or current marketing process. (Catalog companies do this simple thing ALL the time. And there are a few smart marketers—online and offline—who make a small fortune every day using this secret, too. Details on pages 208-209.)
The #1 "deadly mistake" people make when sending out free reports and lead generation pieces. (This common "blunder"—almost everyone using lead generation commits—destroys your credibility and practically guarantees nobody buys from you.) Page 147

"I Recommend Anybody
Trying To Get Better Response To Read It"



"Ben, what a massive contribution to the copywriting world. And very original. And I recommend anybody who's trying to get a handle on copywriting or get better response to their ad copy to get it and read it. It's really a fantastic resource."



-Ken McCarthy


7-figure copywriter
and info-marketer
www.TheSystemSeminar.com


How to "delete proof" your email pitches. (Page 97)
The #1 "big mistake" people make on their blogs that absolutely

kills

their sales. Page 239
A single, "magic word" (often used with CNN newscasts) that will have your prospects glued to your ads—even with a hundred other distractions competing for their attention. Pages 190-191
Why old-time copywriters

purposely

misspelled words and

mangled

the grammar in their ads. (And why you should test doing the same thing today.) Page 68
How reading the Holy Bible and the National Enquirer together can give you

unlimited

ideas for your ads, sales letters, articles and products. Page 15
Two little-known ways to get full page newspaper and magazine ads for

pennies

on the dollar. (One way is to use "remnant" space advertising. But almost nobody thinks to use this second way that is even easier and cheaper.) Pages 149-150
How to use

direct mail

and space ads to drive highly targeted leads and customers to your

website

. (One

huge

mistake is relying on Google for leads. Here's a way to generate more and better leads for less money, and without having to worry about Google's next "algorithm" change.) Page 152
How to use email to become a "household name" expert in your field. Pages 291-293

A unique (but extremely

simple

and 100%

proven

) way for any online business to literally double your profits in 59 days or less. (Doberman Dan Gallapoo learned this incredible tip while working side-by-side with the late, great copywriter Gary Halbert. Best part is, almost nobody online does this. Which means, when YOU use it, you'll stick out like a sore thumb—even against your savviest competitors.) Page 159-160
A scientifically proven way (recently discovered by neurologists) to transform your frustration with writing ads into boundless creative energy. Page 168
How to use social media sites to quickly and easily dominate your market. (Social marketing expert Brian Clark uses this secret to attract tens of thousands of readers to his blog each

day

. People are usually floored when they see how simple this is.) Page 238
The "hidden danger" of swiping the highest pulling ads on the Internet. Page 306

How watching a certain movie at your local video store can dramatically increase the response of your ads. (Go to page 18 for the title of this movie and

exactly

how to watch it. The late copywriting genius Eugene Schwartz called this one of the most important selling secrets

ever

invented

—and it works for ANY kind of product or service you sell.)
When using glowing customer testimonials in your ads can actually

hurt

your sales. Page 95

Why tossing your order forms on the street can increase your response by as much as 30%? Page 178
How even "

newbie

" copywriters can beat the pants off seasoned

pros

. (This secret is perfect whether you're a freelance copywriter trying to beat someone's control... or a marketer wanting to eliminate your competition.) Page 91

And by the way, while we're talking about your competition...
The
Copywriting Grab Bag
features all
kinds
of ways to screw with your competitors' heads...


...and even use their hard work to

YOUR

advantage.
For example: How to use your competition's product or service to sell
yours
(and without him even knowing about it—Page 116)...
How to destroy your competition's sales by
praising
them to the moon in YOUR ads (Page 45)... and even...
This "stealth" copywriting method works almost like
magic
.
And it literally gets your competition to
eagerly
and
happily
help you write high-pulling headlines (and even let you know, before you run your ad, if they will work or not) for your sales letters without paying them a penny.
You can find this extremely valuable secret on page 122.
Here are some
more
secrets in
The Copywriting Grab Bag
:
How to make your ads pull MORE money and response by putting LESS time into writing them. (This tip is perfect if you find copywriting to be

slow torture

.

) Page 312



A secret website where you can access almost every single direct response newspaper ad that has ever been published in the past 100 years. Page 27


"Your 'Copywriting Grab Bag' book not only has a lot of really priceless information, but your

(secret described on page 72)

bullet point idea is a thing of beauty. So simple, yet so irresistible. I've already put it into practice. What reader could help themselves from filling out an order form when you use that technique?"



-Charles Brown

www.Dynamic-copywriting.net

How to add sales appeal and value to the photos in your ads. Page 74

A secret way to use your TV set to raise your IQ by 10 points. (And without even turning it on!) Page 191
How to get noticed in hot, super-crowded markets where nobody knows who you are. (Most copywriters and marketers

never

think to do this. And it gives you a HUGE advantage over even your most popular, "cash-flush" competitors. Details on page 108.)

A secret place to find your first copywriting client

before

you have a portfolio, testimonials or a "track record." Page 89

"Going On The Shelf
Next To Clayton Makepeace's Book"


"Awesome! Inspiring!

"Your book is going right on the shelf next to one of my other often consulted copywriting books... by none other than

Clayton Makepeace

himself. Nice work!"



-Ray Edwards

Copywriter for Tony Robbins, Frank Kern, Rich Schefren and other top Internet marketers

www.RayEdwards.com



Hear What Ray
Says Below:


How to use "warning labels" in your ads to dramatically increase your sales. Page 110
How to tell—almost 100% of the time—if the market is going to respond to a new product or idea

before

writing your ad. Pages 173-175
How to build a swipe file of the best direct mail ads in your niche that are running RIGHT NOW—free. (And without doing a lick of "leg work." In fact, you won't have to log onto your computer, leave your home or even get up from your

chair

.) Page 148
A $13 book (not even about

copywriting

) that can teach you more about writing irresistible bullet points than most advanced copywriting seminars. Page 176
The incredible copywriting secret (used by both

P.T. Barnum

and

Mother Theresa

) that lets you sell to even your coldest, most "sales resistant" prospects. Page 28
The best and most profitable skill any blogger can have. (And nope, it's NOT copywriting). Page 239
How to stick out like a sore thumb in "hyper competitive" niches. Pages 45-47

The "Hey Mitch" copywriting secret used by world-class copywriter David Deutsch—that lets you

instantly

determine if what you wrote is "good copy" without guessing or testing. Page 224
Speaking of David Deutsch...
David is one of the most
respected
and
successful
copywriters on the planet.
He has had multiple million-dollar controls running for powerhouse companies like
Phillips
,
Agora
,
KCI
and
Boardroom
(he even once had 6 controls running
simultaneously
for Boardroom—which is
unheard
of). And he has written ads for everyone ranging from small entrepreneurs to Fortune 500 companies.
Some of the secrets David reveals in
Appendix 5
include:
How to make "technical" facts about your product sound fun and
fascinating
... 4 things every copywriter MUST know about design...
A secret "back door" way to break into the direct mail industry
... When you should NOT write in a smooth, "conversational" tone (and instead use stilted, boring "corporate speak")... and even...
This is literally the single most powerful copywriting "secret" ever invented.
Believe it or not, the "big guns" in the multi-billion dollar direct mail industry don't talk about "writing" or the fancy sales letter "choke holds" you read about in most books and courses.
Instead, they talk about this one thing—and one thing
only
—even the best copywriting books and courses tend to (at best)
gloss
over.
You can check this secret out in
Appendix 5
.
Here are a few more copywriting secrets you will find:
An almost unknown way to use old religious texts to turn "dud" ads into cash-producing winners. (This thousand-year-old persuasion secret works even better

today

.) Page 34

How to use your telephone to double your sales without doing any tele-marketing or even dialing any numbers! Pages 180-181

"An Enticing Buffet Of Copywriting Tips"


"The Copywriting Grab Bag is an enticing buffet of copywriting tips, tricks, techniques, stories, metaphors, resources and interviews that copywriters at any level can feast on whenever they're hungry for new response boosting ideas. And it's written in a distinct style that makes it fun and engaging to dip into at anytime of the day."



-Leon Altman

Copywriter featured in AWAI's "Monthly Copywriting Genius." Also wrote for Jim Cramer (of CNBC's "Mad Money"), The Anaheim Angels, And Apple Computer.

www.AltmanCopyPro.com



Hear What Leon

Says Below:

Three ways to create "can't refuse" offers people have no choice but to buy from. (Your offer is about 40% of the battle when selling via direct response marketing. By using any one of these "super hero" offers you almost

can't

fail

.) Pages 101-103

How to use

direct

mail to dramatically increase the response of your

emails

. (And do it without spending one red cent on postage!) Page 97

How to find dozens of "hidden" benefits about your product you don't even know exist right now. (Ted Nicholas—who has sold over $200

million

worth of books via direct response advertising—made a fortune unearthing the "hidden" benefits of his products. Here's a simple way to do the same thing in your ads, and scoop up more sales and profits as a result.) Page 41

How the legendary copywriter Mel Martin wrote ads so powerful people would order from them without knowing (or even

caring

about) the price. (This is taking copywriting to its

highest

level—and here's exactly how he did it.) Page 176
The one word Socrates (perhaps the

greatest

master of persuasion who ever lived) used to "sell" people on his ideas—even though they were dead set

against

him before! (This secret was also used by the late, brilliant copywriter Eugene Schwartz. Here's how to use it in

your

ads.) Page 53

How to use your customer's natural procrastination and laziness to sell MORE of your products and services. (Procrastination is one of the most common ways a sale is "killed." Here's how to use your customer's natural procrastination to your

advantage

and actually MAKE money from it.) Page 102

The surprising way to use "recycling" to shoot your advertising response through the roof... while cutting your writing time in

half

. Page 61
How to quickly and easily gain a "cold" prospect's trust and confidence in your ads. Page 29
How to create better ads without doing any extra "writing." (Million dollar copywriter Ken McCarthy taught me this extremely powerful "trick" and it works for almost any product you can imagine—from $10 eBooks to $10,000

seminars

.) Page 70

How to make your long copy ads and sales letter almost impossible NOT to read—
This powerful little tip takes a lot of the "mystery" out of copywriting.
DC Comics (the second biggest comic book publisher on the planet) accidentally used this secret to bring their flagship character "Batman" back from the brink of cancellation in the 1980's.
Today this
exact
same secret is used by the giant direct mail companies to bring in
hundreds
of millions of dollars per year in sales—because their customers simply MUST read their ads top to bottom.
You can learn how to use this secret in YOUR sales letters, on page 36 of
The Copywriting Grab Bag
.
Here are even
more
advanced copywriting secrets you'll learn:
The "unsexy" secret of one of the Internet's most visited blogs. (According to the site's owner, Brian Clark, people are

baffled

when they hear this and almost refuse to believe it can be this easy. You can read all about it on pages 242-243.)



How to protect yourself from getting cheated in your business deals... without even using a contract. (Most business "cons" grin ear to ear while signing "iron clad" contracts. Here's how to defang these "snakes" and send them away, never even bothering to deal with you again.) Page 50

"Has Put A LOT Of Money
In My Pocket"



"The secrets in this book have put a LOT of money in my pocket.

"And they can do the same for you if you apply them to your own ads."



-Michael Senoff

www.HardToFindSeminars.com



Listen To What
Michael Says Below:


The 2 best ways to "arrange" your testimonials on the page for more sales and response. Page 96

How to set up joint ventures with other marketers with giant lists—even if you're a complete newbie with no name recognition or reputation. Pages 296-299
How to get movie stars, TV celebrities, and even professional athletes to promote your products

for

you. Page 214

How to make yourself the #1 most trusted business in your niche—even if nobody has heard of you before. Page 46
How to use your computer's

email

program to make complex concepts childishly simple to understand in your sales copy. Page 104



How to use an ordinary calculator to make your copy tight and super easy to read and respond to. (World-famous novelist Stephen King actually uses this secret to make his books best-sellers.) Page 59
How to eliminate most (and even

all

) of the "anxiety" of writing a new ad. (Getting started is hard for even the best copywriters. Here's a simple "trick" that will get you started and cranking out copy

fast

—with no frustration or pain.) Pages 91-92

"A Copywriting Book
You Simply Can't Be Without!"



"Ben's tricks, tips, tactics, and secrets are incredible and they've helped me create significant sales increases for my copywriting clients. I'm sure they'll do the same for you."



-B. Flatt, Freelance
Copywriter

(Las Vegas, Nevada)
How to "train" your list to be

buyers

right out the gate. Page 287
How to "brag" about yourself and your product in your advertising... without sounding arrogant. (In fact, most people

love

it when you talk to them like this. Details on page 100.)
How to run your own profitable direct mail campaigns...
Online marketers who add direct mail to their sales funnels are seeing their
"Biggers Fees Flowing Into My Bank Account"


"I have developed my voice and have helped three clients develop a personality in their marketing messages. All leading to higher profits for them, more projects from them, high percentage deals and bigger fees flowing into my bank account."



-Sandy Barris
www.FastMarketingPlan.com



Hear What Sandy

Says Below:
profits explode by as much as 30%, 50%, even 100% or
more
.
In fact, those numbers are actually LOW in many cases.
Now, one way to start using direct mail—without investing a lot of money—is to simply "snowball" your direct mail campaign. That means sending as many letters as you can afford (or want to test). Then, taking the profits from that and investing it into another mailing. And then doing that over and over—keeping your investment to just that initial test mailing.
But here's the problem:
Doing the direct mail "snowball" can be very slow and take months (even
years
in some cases) to "cash in" on your campaign.
On page 147 of
The Copywriting Grab Bag
you will learn a secret way (and no, it is NOT joint ventures) to conduct a direct mail campaign that is both
fast
... and will not end up "costing" you one single
penny
in postage, printing, envelopes, ink, list rental or anything else.
Here are even more of the
advanced
copywriting and marketing secrets you will find:
How to quickly build a huge swipe file packed with million dollar ads... and do it without spending any money. Page 66

"A Book I Read
Over And Over"



"It's my opinion it's better to read one excellent book 10-times than to read 10 so-so books once. I read 'The Copywriting Grab Bag' over and over. Which is more than I can say for many other copywriting and marketing books I've purchased. It has my highest recommendation."



-Michael Silk
Freelance Copywriter

(Kent, England)
The one kind of company that should NOT be blogging. (For these businesses, blogs will destroy their sales. Is your business one of these? Find out on page 240.)
The approximate number of times you should send your list offers and sales promotions. Page 291
When you should NOT stuff your swipe file with the highest selling ads! (Read this before you add even one more sales letter to your swipe file—it could save you a great deal of time, frustration and money.) Page 306
How to sell high ticket products and services... with one bullet point? (The best copywriters in history have used this secret over and over—and now you can, too. See page 73)
Why the two highest-pulling sales letters in history... were

SHORT

copy ads. (One of them was 1 page. The other was only 2 pages. Are your ads too long and hurting your sales? Find out on page 126).
A rare fact: Why you should NOT always try to make your copy better. (It's true—making your copy "better" can many times hurt your sales long term. Instead, try this little trick the late, brilliant copywriter Gary Halbert used in his promotions on pages 138-140.)
How to get your customers

enthusiastically

referring all their friends, family, and customers to you. Pages 214-215

How to make your ads instantly stick out in overcrowded markets. Page 108
A secret (offline) way to send tens of thousands of potential (and highly

targeted

) customers to your website for mere "chump change." Pages 202-203

A simple psychological "trick" (often used in weight loss ads) that is almost guaranteed to increase the pulling power of your ads—no matter what you sell. Pages 110-111

Why blindly copying what even the most respected marketing "gurus" do in their ads can actually

destroy

your business. Page 219
The easiest way ever invented to get attention on the Internet. (Gary Halbert did this and had one of the highest ranking sites on the Internet. Here's what he did, and what YOU can just as easily do with your website.) Page 241
The right and wrong ways to use

fear

in your advertising. (Be careful with this one. If you do this wrong, it can "backfire" on you and cost you a lot of money. Here's how to do it the right way—complete with an ad by one of America's top copywriters to swipe and study as an example.) Page 85



When improving your web design can potentially attract thousands of new buyers to your sites. (Copywriters who say design "doesn't matter" are out of their minds. And this prov

es

it.) Page 248
How to write highly effective SEO copy without having to be a search engine expert or learn any high falutin' SEO "tricks." Page 262
Why ads that are "polished to perfection" often under-perform against ads that are written fast and are just "good enough." (If you hate writing for long periods of time, you're going to LOVE this.) Page 313

How to instantly increase your advertising response by up to 30% (or more) just by making a few simple "tweaks" to your order form. Page 179
And much, much

more

, including:

The Copywriting Grab Bag is $297 and nothing else for shipping & handling (I pay for your shipping).
This is NOT for wannabes and freebie-seekers.
Or if you just like to "dabble" and not commit to action.
In fact, if you are a hyper buyer who is just temporarily excited about this product... or think you can make money and sales by being lazy or mindlessly swiping or whatever... then this product is NOT for you.
This is for
serious
people only.
And is not meant for anyone else.
Anyway, if you're still interested, it's easy to order.
Just click the button below and follow the simple instructions.
As soon as I get your order, it will be mailed right to your doorstep:
Sincerely,

Ben Settle
P.S.
Fast response bonus:
If I hear from you
today
, I will also throw in a
FREE
CD with the MP3's of the appendix interviews, along with some other valuable bonuses—such as:
A

huge

101 ad swipe file.
A

detailed

bullet point template report (the

same

bullet point templates I use for writing my own ads—including

this

ad.)
And an

advanced

copywriting teaching I gave to a private coaching group about

exactly

how I write ads for one of my 7-figure clients.
This CD could
easily
sell on its own for $97 (or more).
But if you act fast, it is yours to
keep
free
—my gift to you just for getting The Copywriting Grab Bag: